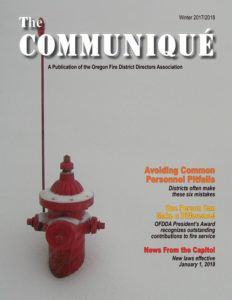 Winter 2017/2018 The Communiqué
Correction: The OFDDA Board of Directors Update on the back cover of this issue provided an incorrect phone number for Dennis Rogers. His phone number is 971-241-7138.
Printed quarterly, The Communiqué is the official newsletter of the OFDDA. Reprints of previous issues may be purchased for $3.
Legislation
Visit our Legislation page to download legislative reports.
Red Book
The Red Book is a handy reference book containing contact information and relevant statistics for more than 100 fire districts statewide. The Red Book is updated every other year with information provided by Districts.
Guide for Public Officials
Guide for Public Officials – Oct. 2010 Edition
Click the link above to download a copy of the Oregon Government Ethics Commission publication, or visit their website at www.oregon.gov/ogec.
Motions Without Emotions – A Guide to Parliamentary Procedures
A handy "how to" guide regarding parliamentary procedures written specifically for fire districts. This publication is available in hard copy form only for $5 plus shipping and handling.
Management & Policy Resource Guide for Fire Districts
Management & Policy Resource Guide for Fire Districts – 2009 Edition
SDAO Management & Policy Resource Guide – 2014 Edition
Also known as "The Directors Handbook." Published in cooperation with the Special Districts Association of Oregon (2009 edition available), this publication is a valuable tool developed to assist district board members and chief officers with the operation of the districts they serve.  The Resource Guide is an educational reference that can be used as a daily information tool and an excellent orientation guide for new board members and district employees.
Sample Complaint
This is a draft policy. Some, none, or all of may be appropriate  for your district. No draft policy should be adopted unless it is determined that in fact it will match your operations. Operations change significantly based on the size of the district, and the combination of personnel, either paid or volunteer. No policy should be adopted on this subject without the review of legal counsel.
Oregon OEM Consolidation Study
Oregon OEM Consolidation Study
This report is a consolidation analysis and next generation 9-1-1 implementation study.